Here at Limitless Good it is no secret that we are in love with the Baobab Fruit.  Our love for Baobab is so great that we make our own 100% Organic Baobab Powder - Limitless Baobab.  The health benefits of getting Organic Baobab into your diet are pretty incredible, but let's be honest, nobody wants to eat spoonfuls of plain Baobab powder.  Thus we present...
Baobab Fruit Recipes, Tasty Ways to Be Healthy
Yes, it's true, with Baobab fruit eating healthy can also be tasty.  Look, I know green grasses and algae are good for you, but they sure don't taste very good...unless you like eating grass and pond scum.   The great thing about the Baobab fruit is that it actually tastes pretty good.  By itself it has a citrus sour flavor, almost like a mango lemonade.  Mix the Baobab fruit in with a few other ingredients and you have a delicious and healthy drink or snack.
We encourage everyone to experiment with our Limitless Baobab powder and figure out drinks and meals that work best for you.  To help give you some ideas, we have rounded up some great Baobab recipes on this page.  Please bookmark or favorite this page as we will be updating it on a regular basis.  
Let's jump in....
Limitless Baobab Boost
Let's start simple.  Ready for the ingredient list...
1. A glass of water
2. Two scoops (6 grams) of Organic Limitless Baobab Fruit Powder
Instructions: Add Baobab to the water.  Shake or stir. Drink
If you are okay with a slightly sour drink, water and Baobab is super simple and super healthy.  Use it as a sports drink when working out.  The potassium and magnesium in the Baobab are great for energy and recovery.  Take it in the morning in place of your coffee.  Sip it mid afternoon for a pick me up.  Drink a glass every morning to keep your immune system strong and stay healthy. 
Don't let the simple look of Limitless Baobab Boost fool you, it still contains 8,400 ORAC (antioxidant measurement, most adults get less than 3,000 per day) and 3 grams of heart healthy fiber, in addition to all the vitamins and minerals.
Limitless Lemonade
Just a slight twist on the above.  SImply replace the water with lemonade and you get a super tasty and refreshing treat.  Lemonade is also sour, so it complements the Baobab fruit, but then it also has a little sweetness, which really balances the sourness of the Baobab fruit.  Again, couldn't be easier...
1. A glass of lemonade (we like Newman's Own Lemonade)
2. Two scoops (6 grams) of Organic Limitless Baobab Fruit Powder
Instructions: Add Baobab to the lemonade.  Shake or stir. Drink
Limitless Baobab Iced Tea
Starting to see a pattern here.  Yes, it really is this simple to make great Baobab recipes.  Find a drink you like and add Baobab!  We happen to love Honest Tea Slight Sweet Sweet Tea with 2 scoops of Baobab.  The sweetness of the tea cuts the sourness of the Baobab and as an added bonus you get the added antioxidants from the tea.  
On a hot day, when you are run down and just feel like melting away, try the Limitless Baobab Iced Tea and you will perk up and feel refreshed.

Limitless Baobab Ice Cream
Does it get better than Ice Cream?  Yes, yes it does...when you add Organic Baobab Fruit Powder to ice cream!  This recipe is super easy to make, super tasty and super healthy.  Super Cubed!  Once you try Limitless Baobab Ice Cream, there is no going back to "regular" ice cream.
Here is the full Baobab Ice Cream Recipe.
More of a visual learner?  Here is a video that shows how to make Limitless Baobab Ice Cream...
Luscious Mawuyu, Umkhomo, Baobab Fruit Cake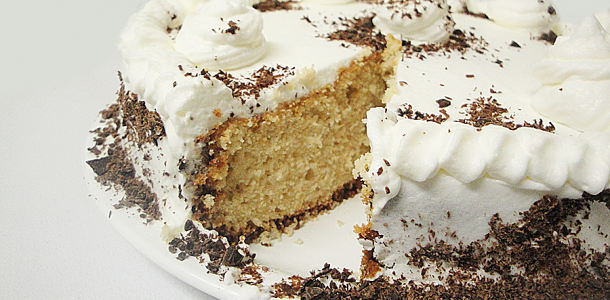 How incredible does that cake look? This recipe comes from Zimbo Kitchen, head on over to
their site
to get the full instructions and recipe. This is a traditional Zimbabwe desert, which of course includes the Baobab fruit and looks too amazing to be healthy, but it is! Meanwhile, we are going to see if we can eat our monitor.
Mawuyu, Umkhomo, Baobab Fruit Smoothie
Another traditional one from Zimbo Kitchen.  This is a super simple, but tasty and healthy Baobab Smoothie.  Head over to Zimbo Kitchen for the full recipe and instructions.  Pretty incredible what you get by just mixing yogurt, milk, bananas and Baobab.  This is a great one for the kids!
Here is a full video of us making the Baobab Fruit Smoothie -
Raspberry Refresher Smoothie
Raspberries and Baobab Fruit really go well together.  Here is a great and simple smoothie idea from Shine Yoga.  Add the Chia seed and the Baobab powder and you have one potent smoothie!
Much More To Come...
As we said, we will be updating this page on a regular basis.  We still have to post recipes for Baobab cookies, Baobab brownies and much more.  Experiment with the Baobab powder - add it to your recipes and let us know what you come up with.  If we post your recipe, we will send you a free bottle of Limitless Baobab!
Have a Healthy And Fun Day!